Other Products
Virtual Jogs and Bike Rides
We offer scenery DVDs suitable for while jogging on a treadmill or cycling on exercise bikes. Whatever your form of exercise equipment, these Virtual Scenery DVDs, Walks, Jogs, or Bike Rides, will make your exercise session more enjoyable and easier to maintain.
Any of our seven different Virtual Jogs & Bike Ride Scenery DVDs will contribute to a more-enjoyable exercise session, as will our Scenery Virtual Walk DVDs which are suited for walking exercise. These DVDs have been filmed in United States, the United Kingdon, Italy, France, Greece, Istanbul, and Egypt. Click on our DVD Catalog link for an up-to-date list of all of our fitness DVDs.
We continue to film new Fitness Scenery DVDs for Virtual Bike Rides and for Virtual Walks in scenic areas of the USA, Europe and the world. Customers tell us that our Virtual Experience DVDs and Downloads help to motivate them to exercise longer and more frequently! Ready their comments by clicking here.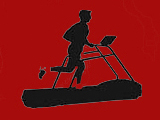 FITNESS DVDs for FIT SENIORS!
Achieve and maintain fitness and health with our DVDs for fit seniors! Enjoy your exercise as you travel the world via our fitness DVDs which feature locations such as Hawaii, California, Maine, and Florida in the United States. Visit London, the Cotswolds, Galway, Connemara, and Loch Etive in the United Kingdom. Travel via treadmill or exercise bike to Rome, Venice, Burano, Amalfi, and the Isle of Capri in Italy, as well as other beautiful places around the world.
View our fitness DVDs as you exercise to achieve and improve fitness, mobility, ease of motion, strength, and endurance. Viewing our fitness DVDs as you exercise will enhance your enjoyment of your exercise activities, and may result in an increased level of participation in exercise activities, as your enjoyment of exercise is supplemented with your enjoyment of virtual travel.
Enjoy exercise and travel as you view our fitness DVDs while you walk or jog on your treadmill, ride your exercise bike, or otherwise utilize your fitness equipment, whether that equipment provides a low-impact or a high-impact workout. Remember to consult your doctor before beginning a new exercise routine, to be sure that the level of exertion is appropriate for you.
For maximum enjoyment of your low-impact or high-impact exercise activity, position your equipment so that you may easily view one of our fitness DVDs as you exercise and simultaneously travel around the world. While exercising and viewing one of our DVDs, visit locations to which you have previously traveled, or view DVDs of places you have never visited but want to know more about, perhaps in preparation for future travel to those locations. Our fitness DVDs provide glimpses of beautiful and interesting sites for your travel and exercise enjoyment.
Enjoy our fitness DVDs to travel the world as your exercise helps you to attain and maintain your desired level of fitness. Whatever the weather in your location, whether too hot or too cold or too wet or too dry to exercise comfortably outside, enjoy your fitness workouts while you travel via our fitness DVDs to scenic locations. Our fitness DVDs allow you to travel even when your local weather conditions are not optimal. Continue your low-impact or high-impact exercise all through the year as you enjoy virtual travel to various places, via our fitness DVDs which can help you maintain your exercise on a regular schedule by enhancing the environment in which you exercise.
Senior citizens who want to be fit seniors can enhance their exercise experiences by viewing our fitness DVDs, traveling via DVD as they utilize their low-impact or high-impact exercise equipment. Fit seniors can remain fit and/or become more fit through exercise; exercise can become more enjoyable when performed while viewing our fitness DVDs. Exercise can improve your ability to participate in the experiences of everyday life, as well as your ability to participate in travel to other locations, as you may wish to do after viewing our beautiful fitness DVDs.
Fit seniors enjoy an improved quality of life and are better able to participate in the experiences of life. Enhance your exercise experiences, and, as you exercise, travel in the comfort of your exercise area, by viewing our fitness DVDs!
"I received the Four Seasons virtual walk today, & I'm VERY pleased with it. Thank you; it will help me get through using the exercise bike or treadmill when it's too rainy, cold, windy, snowy, or hot to walk outside. S.S."
"Hello, I just ordered 11 of your DVD's and it is everything that I had expected and hoped it to be! I want to thank you for making these videos. As I grow older it's harder to keep in shape without exercise. Even though I have always loved to exercise, as I grew older, I began to exercise less, gained the weight, began to get health issues and I decided that that was it and began to get myself healthy again and to exercise. I am proud to say at the ripe old age of 60 that I began getting fit again. I purchased an Ab machine and can now do 25 sit ups right in a row after only one month of exercising, and I go 30 minutes on the treadmill at a fast clip, and ride my stationary bike for 10 minutes. I plan to improve on my endurance as I keep progressing in my goal to be fit again! Your videos are just the right thing for me to STAY motivated. It's one thing to have your mind set to do something, but staying the course is another matter and is why most diets and exercise programs fail. I popped in your video today on Venice, and plugged in my own exercise music, (However, I love your music too, which gives me more choices to choose when exercising) and it was the best time I've had in a long time. I have needed such a vacation. I did my 30-minute workout on my Treadmill and enjoyed it more than I have ever enjoyed it before. You kept the camera moving as though I was right there. (Wished I could have gone shopping in some of those shops). And when the video was done I jumped on my bike and played the mini documentary which gave me a 10-minute exercise program on my bike. What an overall, healthy experience. Not only does it motivate me to get on my equipment, but I'm excited to see what I'm going to see next and I'm learning history as well. I told my husband that today I visited Venice, tomorrow I'm going to London and he laughed. He told me, "See, I promised you I'd take you places". Thank you again! I LOVE IT! You stated that you are finishing up on some more. You can count on me ordering the rest of the videos. Once again thank you for your time and thoughts on creating such a motivational video. Nancy"